Brand – Citibank
Introduction
Mediazo, a full service digital marketing and social media agency and their client came up with an interesting campaign called Unscramble48. Here, many well known bloggers and social media evangelists were invited to unscramble "12 scrambled pictures in 48 seconds". The event took place in Chennai and Bangalore. The concept behind this interactive and thoughtful game was to promote Citibank's Personal loans in 48 hours and to create video content of influencers. The game videos were later uploaded on YouTube for participants to create outreach & virality.
Objective
To create buzz about Citibank's offering personal loans up to 25 L (2.5M INR) in just 48* hours.
To share videos and generate virality.
To engage social influencers on Twitter and Facebook in Bangalore and Chennai markets.
The overall objective of the campaign was to create communication hooks for influencers & to promote Citibank offerings.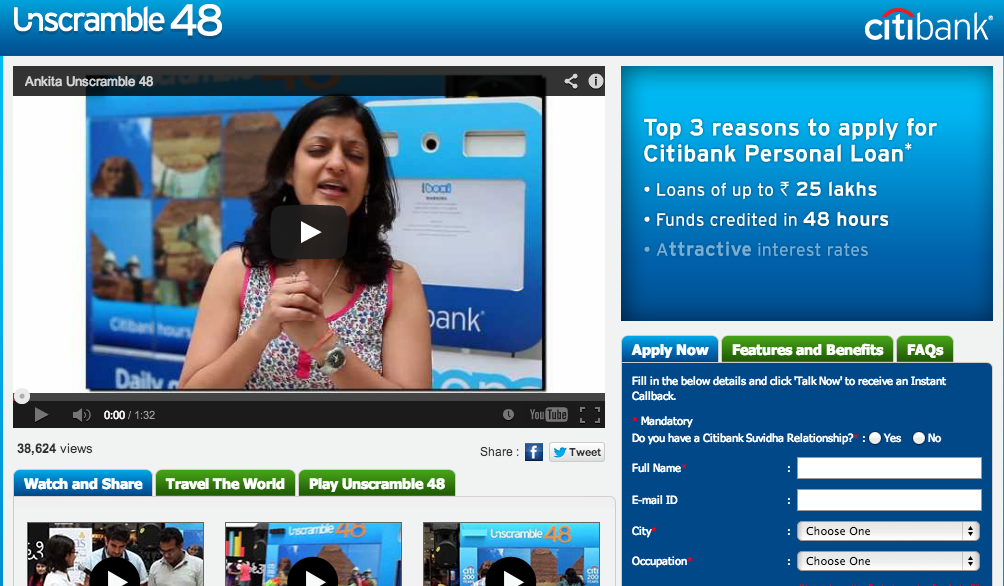 Execution
There are two important things that attract people when a campaign is executed. One, it should be fun to watch/play and the other that it should comprise of exciting prizes. Citibank 'Unscramble48' campaign ticked both of these boxes. Initially, a mailer invite was sent to several popular bloggers to come on-ground and participate in the unscramble 48 game. The contest was held on 23rd and 24th march 2013 in Chennai and Bangalore respectively.
The thought behind the idea was to make bloggers play the game on-ground and promote the video on their social pages. To make it catchier, every participant was given different set of challenges, such as unscrambling boxes with blindfold or with their hands cuffed. Others had a joker behind to trouble and irritate them while arranging pictures.
Later these videos were uploaded on a microsite http://unscramble48.in/  and YouTube Channel http://www.youtube.com/user/unscramble48 and the same game was replicated online as well.
Video
The Catch – The catch was the iPhone 5 contest. Bloggers were required to promote their videos until April 21, 11.59 p.m. The video with maximum outreach & virality was be ranked 1st and the producer was eligible to win iPhone5 (@narayananh), and the video with second highest views took home a Sony PS3 (@dhempe) and so forth. Other prizes included Canon Digital Camera, Philips Portable DVD player, Apple iPod Shuffle and more.
Result
More than 485,500 views were generated on YouTube.
Created a buzz on Twitter, Facebook and other Social Media hub.